Battery life is slowly improving in smartphones, but we can't be tethered to a wall at all times. An external power bank is essential for keeping your smartphone up and running without having to go hunting for outlets.
In this list, we focus on 10000mAh power banks, which are great for daily use. With a 10000mAh power bank, you can charge most phones 3-4 times while keeping prices and portability at a minimum. We've done the legwork for you, evaluating a wide range of 10000mAh power banks from different manufacturers, costing different prices, and some offering unique features. Our picks below reflect a range of needs.
Top 10 best 10000mAh power banks in UK for 2021
1. Anker PowerCore Slim
One of the slimmest and lightest 10000 mAh power banks on the market. Apart from being one of the smallest 10,000mAh portable batteries, the Anker PowerCore Slim also supports Power Delivery. That means the USB-C port can charge up to 18W. Not to be outdone, the standard USB-A port's maximum output is 12W.
The PowerCore Slim 10,000 PD is only about the same size as your phone, yet it packs enough power to charge it twice. Anker's exclusive PowerIQ and VoltageBoost technology combine to deliver the fastest possible charge for any device, while the trickle-charging mode is the best way to charge low-power devices.
2. UGREEN Power Bank
The UGREEN Power Bank offers the perfect blend of size and speed. It pumps up to 18W through the USB-C port or 11W with the USB-A option, and measures just one inch thick. It's not the fastest charger, but you can recharge the full capacity in just about three hours thanks to the PD 3.0 USB-C port.
You can tap into either port and the UGREEN should be good for two or more charging cycles. Best of all, the current price firmly places UGREEN's portable charger in the impulse-buy territory.
3. Satechi Quatro Wireless Power Bank
If you're someone who wields an iPhone, Apple Watch, and wirelessly-chargeable AirPods and want a power bank that can handle all three of them without pesky cords, the Satechi Quatro Wireless Power Bank is your best bet.
It's a modestly-powered 10,000mAh power bank, but the Apple Watch-compatible inset on the surface lets you charge the smartwatch alongside another wirelessly-chargeable device, whether it's an iPhone, AirPods, or another phone or compatible device. It has USB-C and USB-A ports for wired devices, too. All that said, it's very expensive at $100, but could be worth the investment for Apple users who are out and about often and demand a lot from their devices.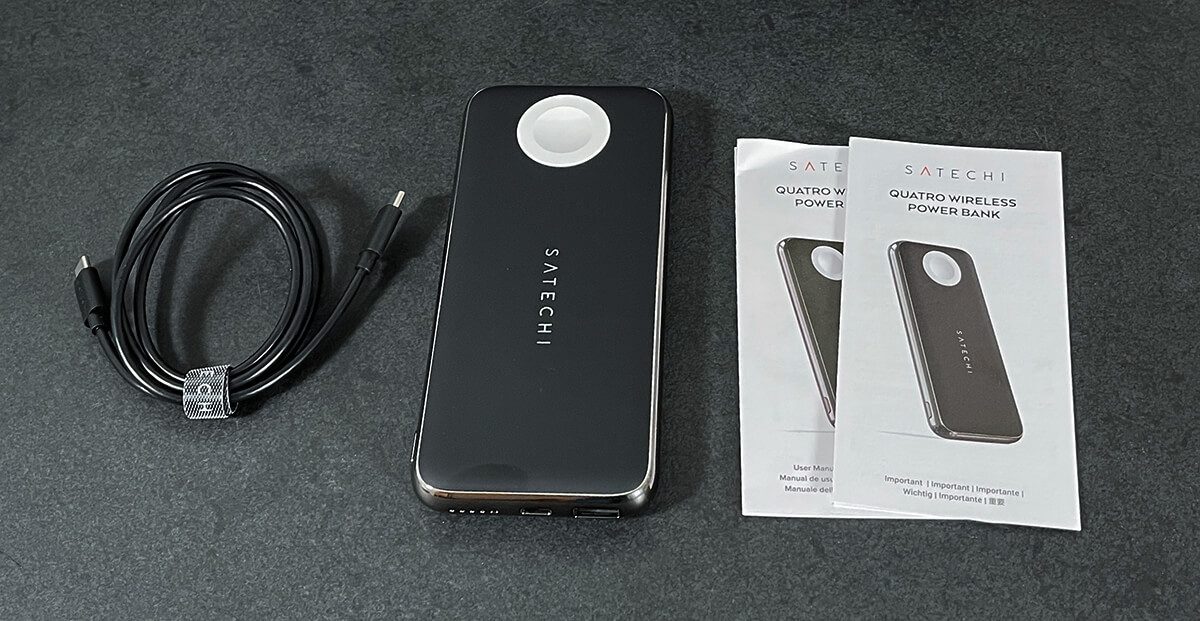 4. Aukey USB C Power Bank
If you're just looking for something straightforward, large enough to carry a couple of phone charges, and shockingly affordable, then Aukey's USB-C 10000mAh power bank can do the trick. It's about the size of a large smartphone, albeit thicker, while the capacity should recharge your phone two or three times over.
It's only $13 right now with a coupon clip, making it one of the most affordable options in this size and capacity from a trusted brand. There are a lot of entry-level options like this, but Aukey's power bank is always at a great price and has strongly positive reviews from users.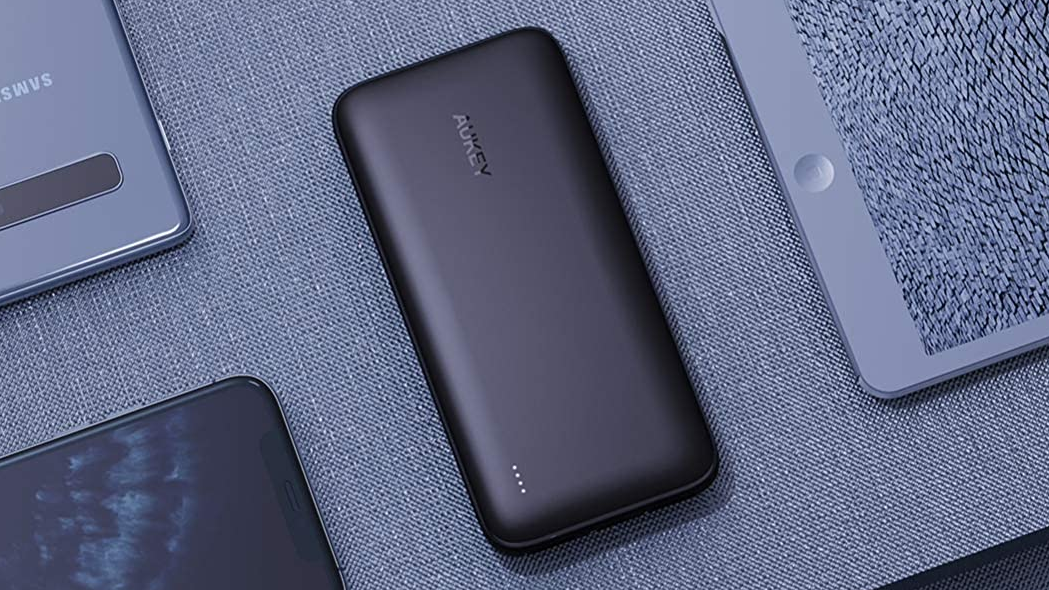 5. ZMI PowerPack 10K
Winner of a 2019 Red Dot Design Award, the ZMI PowerPack 10K features a woven fabric top and bottom. There's also an aluminum frame that houses the regular USB, micro-USB, and USB-C ports. The regular USB port supports Quick Charge 2.0 output, while the USB-C port supports Power Delivery output and input. That means the PowerPack 10K supports up to 18W output and input.
As if that wasn't enough, the portable charger has a great trick up its sleeve: USB adapter mode. If you connect the PowerPack 10K to a computer, you can connect USB peripherals and use it as a portable adapter for your computer. Given all the features and fancy exterior, the PowerPack's asking price is very reasonable.
6. Blavor
Solar Power Bank
If you're looking for a power bank that's built for a long hike, camping, or any other extensive outdoor activities, then this is the one. Blavor's 10000mAh power bank holds a solid amount of juice, but even better than that is the ability to charge it via solar power. It even has wireless charging, too.
The solar panels can power up the bank while strapped to a backpack or when hanging at the campsite, plus it has dual flashlights in case you need a bit of brightness. You can charge it through a wall outlet too, but the solar edge, water resistance, and lights make this incredibly handy for outdoor adventuring.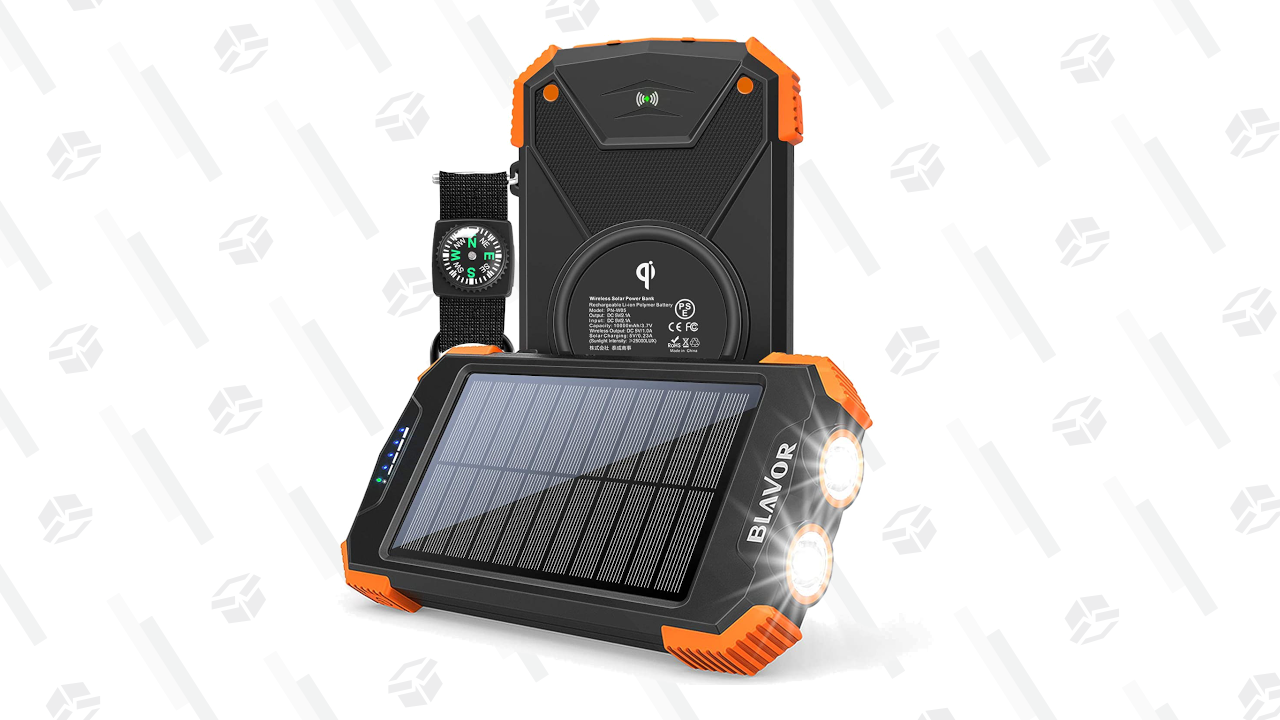 7.
Kinps Portable Charger 10000mAh
The Kinps 10000mAh power bank has some of the most usual aspects that a portable charger can have and that's what makes it so good. Well, it's not all that usual either because it does have parts of it that make it better than some other power banks on the market.
It has a great power capacity when it comes to charging smartphones, but not so much when it comes to tablets. The charging design of this power bank is great. Each of the USB ports has a charging speed of 5V/2.4A and the Max Output of the power bank is 3.5A. The recharging speed of this power bank is just as good as the output speed because it has a recharging speed of 5V/2.4A and as long as you're using a 2.4 Amp USB wall charger or higher then the power bank is able to charge to its full power in about 5 hours or a little more than that.
8. GETIHU Power Bank
The GETIHU is a portable power bank with a 10,000 mAh capacity. And this thing really deserves to be called portable. It's an impossibly thin 0.37 inches/0.94 cm and super light 7 ounces. You always know how much battery is left with the clear digital display by simply pressing the power button.
The charger features GETIHU's fast charging technology and has dual USB ports which lets you charge 2 devices at the same time, perfect for those gadget hoarders out there. So, you can easily simultaneously charge an iPhone and iPad at the same time using this thing which is something that can't be said for many of the other portable power banks on the market today.
9. Charmast 10000mAh Mini Power Bank
We're big fans of this dinky power bank from Charmast. It's super-compact and will easily go unnoticed in any pocket or bag, yet it has a mighty 10,000mAh of power inside that will charge your phone two to three times. Its grippy ribbed casing reminding us of the more pricey Zendure models, and lending it a rather premium finish that stands out from the average matte black plastic brick.
There's a single USB-C PD port on the bank, which is capable of 18W. This is both input and output, able to fast-charge a connected device or itself – the latter in as little as three hours. Should you want to charge the phone and bank together, there's also an 18W USB-A port at the other end, although only one can offer 18W Quick Charge speeds at a time. An extra nice touch is the soft mesh carry case and short USB-A to USB-C cable that are provided in the box.
10. Mophie Powerstation Wireless XL
This power bank by trusted brand Mophie gives you both wired and wireless charging from its enormous 10,000mAh capacity. You can top up two devices at once using both methods, and it'll even charge your AirPods wirelessly too if you have the right AirPods case. You'll also be able to charge iPads thanks to Lightning and USB-C ports. This is truly a one-stop-shop portable charger if you have all the Apple gear and are frequently away from a plug.
That said, it'll also charge any USB-C or Qi wireless charging compatible Android phone or tablet, so it's not exclusively for Apple products. It's a bit chunky at 280g and it's not the cheapest out there, but it's an all round excellent power pick from one of the market's most revered manufacturers.
How to choose a good power bank
Looking for the right specifications
The portability of a power bank is directly related to its charging capacity. The more milliampere hours it has, the larger the power bank will be physically and thus the less portable it will be. Check the power bank's sale listing for information about its physical dimensions, and decide if its charging capacity is worth dealing with its size.
Most power banks will come with a 1 ampere (A) or 2.1 A output or both. A 1 A output is usually enough for a phone, while a 2.1 A is more suitable for a tablet. Power banks for laptops will usually have a 3 A output. Input ranges from 1 A to 2.4 A. The higher the amperes of the output, the faster your device will charge; the higher the amperes of the input, the faster your power bank will recharge.
Getting the right extras
Look for a power bank with at least 2 USB charging ports on it. That way, you can charge your phone and another device at the same time. Usually, the charging ports on a power bank will have different charging outputs, so that you can charge larger devices at the same rate as smaller ones. Remember that charging multiple devices on your power bank means that it will need to be recharged more frequently.
Make sure the power bank comes with the necessary cables. Your power bank should at the very least come with a cable to recharge the power bank itself. It should also come with USB cables for use with your devices. Ideally, you should look for a power bank that charges using the same type of cable as your devices. That way, you only need one cable for both.
Final note
Power banks (portable chargers) have become increasingly popular over the past several years as smartphones have become ubiquitous. For a world on the go, making sure your devices stay charged throughout a day of constant use is a must. If you know what specifications to look for, do your research, and get all the right bells and whistles, you can pick the right power bank for you and keep your devices charged as long as you want.
We hope you can find what you're looking for after reading our article.